Designing HVAC

for Cannabis Grow Rooms
If you're in the business of growing cannabis, or you're a facility designer, an engineer, or a contractor – you're in the right place!
We're proud to announce the release of our brand-new Designing HVAC for Cannabis Grow Rooms, the essential resource to help ensure the success of your project.
It's chocked full of insights that you can use immediately. Make sure to download it today!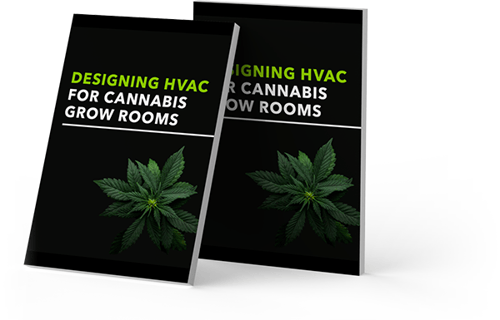 Download your Grow Room Design Guide for Free!
Fill out the form below to get your digital copy.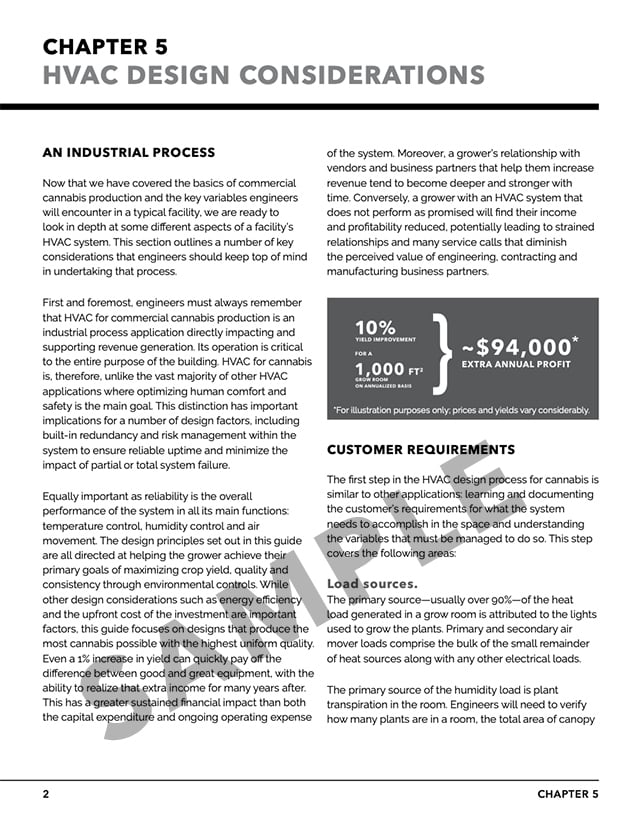 Table of Content
Chapter 1 - Intro
Chapter 2 - Definitions
Chapter 3 - Plant Phases
Chapter 4 - Room Layout
Chapter 5 - Design Considerations
- An Industrial Process
- Customer Requirements:
• Load sources
• Air movement
• Temperature and humidity set points
- Critical Concepts:
• Decoupled vs. integrated system
• Sensible vs. latent cooling
• Sensible heat ratio
• Design set points vs. equipment capacity
• Airflow and air exchange rates
• Constant air volume (CAV) vs. variable air volume (VAV)
• New build vs. retrofit
- Equipment Location:
• Hallway (indoor rated equipment)
• Mezzanine (indoor rated equipment)
• Inside the grow room (indoor rated equipment)
• Mechanical rooms (indoor rated equipment)
• Roof mounted (outdoor rated equipment)
• On grade (outdoor rated equipment)
• Dry coolers (outdoor rated equipment)
- Heat Rejection System Types:
• Dry/Wet Fluid coolers
• Direct expansion (DX) system
• Geothermal
- Control Systems:
• Building management/building automation system (BMS/BAS)
• Low voltage
• Standalone control
- Geographic Location
- Lighting Impact on Design Set Points
- Common Environmental Issues
Chapter 6 - HVAC System Elements
Chapter 7 - Common Configurations
Chapter 8 - Dry Room Strategy
Chapter 9 - Project Management Tips
Chapter 10 - Preventative Maintenance
Chapter 11 - Agronomic IQ Products And Configurations
Bonus Tool - The HVAC Designer's Checklist